Patient transport ambulance:
Road ambulance designed and equipped for the transport of patients who are expected to become emergency patients. Road ambulance designed and equipped for the transport, basic treatment and monitoring of patients.
Vehicle Specifications: 
Body Type: Wagon
Transmission: Manual
Displacement: 4164 CC
Safety: with Dual Airbags + ABS
Type/ Fuel Type: 6 Cyl or 8 cyl, OHC / DIESEL or Petrol
Dimension: Lx Wx H
5070 x 1790 x 2120 mm
Wheelbase: 2980 mm
Gross Vehicle Weight: 3200 kgs.
Tire Size 7.50R16-8
Fuel Tank Capacity: 90+90 (180 Ltrs. )
Steering: LEFT HAND DRIVE , 4×4
Ambulance conversion:
Sub-structure, Insulation, Reinforcement of Patient's Cabin
Flooring with Plywood with Vinyl Coating  (Waterproof)
Complete Ceiling System
Air Conditioning System for the Patient's Cabin
Bulk Head with Sliding Glass Window
Cabinets for Medical Equipment's and Electrical Outlets
Electrical Control Panel/ Fuse Box
Electrical Outlets (12V)
Electrical Outlet (220V)
Technician's Seat with Seat belt
Public Address Alarm and LED Lightbar
LED Warning Lights, each sides of ambulance
Rear Camera with Monitor
Fire Extinguisher (2kg)
Livery, Designing of Ambulance body
Glass Tinting of Ambulance
Medical Equipment
Automatic Loading Stretcher
Folding stretcher
Scoop Stretcher
Traction Splint Kit
Portable Suction Unit
Head Immobilizer
Resuscitator kit
First Aid Kit
AED
Ventilator
Mobile Intensive care unit
Road ambulance designed and equipment for the transport, advanced treatment and monitoring of patients.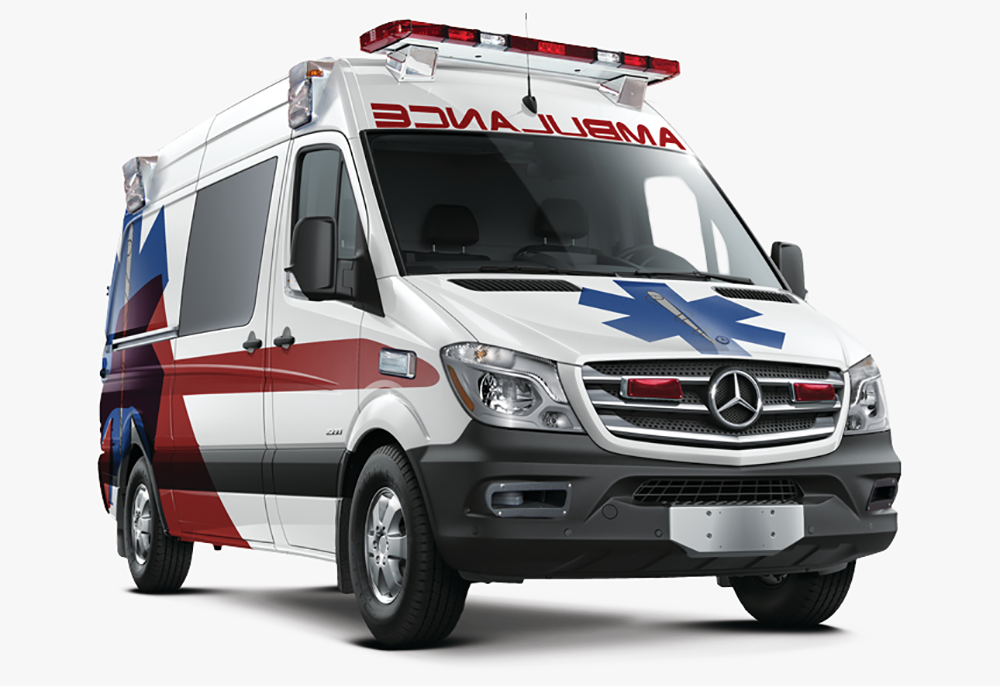 Vehicle Specifications:
Body Type: Panel Van
Engine Power: 190 kW (258 HP), 6 Cylinder, 3500 CC, 3.5 Litre
Loading Space: 3365/1780/1940 mm (L/W/H interior)
Wheelbase: 3665mm
Gross Vehicle Weight: 3880 kgs.
Tire Size: 2 x RH2 – Tyres 235/65 R16 C
Steering /Drive train: LEFT HAND DRIVE, 4×2
Ambulance Specifications:
Sub-structure, Insulation, Reinforcement of Patient's Cabin.
Marine Plywood Flooring with Vinyl Coating (Waterproof).
Complete Ceiling System.
Roof Type Ventilation Fan.
Bulk Head (Partition Wall) with Sliding Window.
Compartment's air-conditioning holes fixed in the ceiling with not less than three holes from each side with a stainless steel rod fixed in the center of the ceiling.
Heater in Patients Cabin.
Air Conditioning System for the Patient's Cabin (Evaporator) +Roof Type Condenser
Additional A/C with separate compressor from vehicle.
Well designed ceiling mounted one way extractor which eliminates air and odors from the patient compartment and disposes them outside the ambulance. Nominal Voltage.
Electrical Wiring with Insulation.
Electrical Control Panel/ Fuse Box.
3 Electrical Outlets (12V)
2 Electrical Outlets (220V)
Inverter +Extra Battery
Inboard Battery Charger
2 Oxygen Regulator with Manometer -Amico,Canada
2 Humidifier and Oxygen Flowmeter
Advance Electronic Touch Screen -Wifi Control Panel
Intercom Set ,communication between Driver and Patient's Cabin
Cabinets for Medical Equipment's and Electrical Outlets
The cabinets are constructed of ABS material with High Impact Strength, low flammability, Good Sound &
Thermal Insulation, Non Corrosive and Resistance to Oscillation & Vibration . Equipped with storage for medication and consumables.
Flamethrower
water and connect it to the flow-meter plus check for proper connection.
Shoreline Outlet- 220 volts input with socket and plug and extension
2x Oxygen Outlet -Amico,Canada
Oxygen Cylinder Exchange Valve
Oxygen Pressure Gauge
Oxygen System related hoses
On-Board Internal Suction Pump with Suction Gauge, Regulator and 1Ltr Autoclaveable Suction Jar
General & Complete various LED Lighting of Patient's Cabin
Complete Covering of Patient's Cabin
Siren System, Amplifier and Microphone
Public Address Alarm and Slim Type LED Lightbar
2 Strobe LED Lights
Flood Light, rear of ambulance
Single fold-able seat, with swiveling mechanism, adjustable headrest, 3 point automatic safety belt (European standards).
1x Foldable Attendant Seat
1x Technician's Seat
LED Warning Lights, each sides of ambulance (2, both sides)
Signal Light
Grill Light
An adjustable floodlight fitted above the rear door of the patient compartment to illuminate the area during the stabilization and loading of a patient.
Long Grab Handle
Made of stainless tube mounted on the ceiling.
Short Grab Handle
Electric Side Step – Stem, Italy
2x I.V. Hooks
Emergency Hammer with Seat Belt Cutter
Rear Camera with Monitor
Fire Extinguisher (2kg)
Glass Tinting of Ambulance
Waste Bin
Wall Mounted Sphygmomanometer
Livery, Designing of Ambulance body
Vehicle Specifications:
6 CYL, 16 V, DOHC
Transmission: 5-SPEED M/T
Safety: WITH ABS + DUAL AIRBAGS (D+P)
Fuel Type: Petrol or Diesel
Dimension: Lx Wx H
5380 X 1880 X 2285mm
Wheelbase: 3110mm
Gross Vehicle Weight: 3250KGS
Tire Size 195R15
Fuel Tank Capacity: 70Litres
Steering: LEFT HAND DRIVE,4×2
Ambulance Conversion:
Sub-structure, Insulation, Reinforcement of Patient's Cabin
Flooring with Plywood with Vinyl Coating  (Waterproof)
Complete Ceiling System
Air Conditioning System for the Patient's Cabin
Bulk Head with Sliding Glass Window
Cabinets for Medical Equipment's and Electrical Outlets
Electrical Control Panel/ Fuse Box
Electrical Outlets (12V)
Electrical Outlet (220V)
Technician's Seat with Seat belt
Public Address Alarm and LED Lightbar
LED Warning Lights, each sides of ambulance
Rear Camera with Monitor
Fire Extinguisher (2kg)
Livery, Designing of Ambulance body
Glass Tinting of Ambulance
MEDICAL EQUIPMENT
Automatic Loading Stretcher
Folding stretcher
Scoop Stretcher
Traction Splint Kit
Portable Suction Unit
Head Immobilizer
Resuscitator kit
First Aid Kit
AED
Ventilator
Ambulance Inside Pictures